The Pyote Bomber Base was a major World War 2 training base. In later years it served as a storage facility for the B-29s. There is a small museum operated there today. These photos were taken by my friend, Bill Copeland, on a recent visit.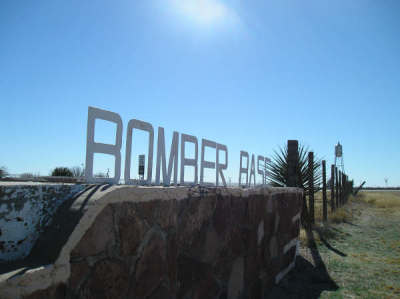 Maingate Bomber Base
The main gate is now a Texas History stop. The low walled portal was built by German Pows that were interned nearby. The modest museum is about a mile away from the the old base. Mrs. Rivas is the caretaker and is helpful after you warm her up a bit. The 19th is well represented re it's early service in the Pacific and a couple of pictures from the Korean war are displayed. If you are going to visit it is open Saturday 9 to 6 and Sunday 2 til 6. No admission fee...they run strictly on donations.