I composed "A Salute To Lt. Holguin" after reading the story "Lt. Holguin's Final Mission" in the April 1987 issue of Readers Digest "Lt. Holguin's Final Mission". I sent Joe a copy of this poem. In his response he sent me a copy of a poem he wrote before his final mission.
A SALUTE TO LT. HOLGUIN
The vast Pacific was aflame in 1943
And global war was raging round the world.
The war lords of the Rising Sun and Hitler roamed the seas.
As gallant men were dying to keep freedom's flag "unfurled".
"Naughty But Nice" was battle scarred from thirty missions "plus",
It seems the road to freedom's always paved,
By those who challenge all the odds because they know they must,
If freedom is to be preserved, Democracy is saved.
The Flying Fortress lifted off Port Moresby's jungle field.
She carried bombs and ten heroic men.
They couldn't know doom lay in wait and that their fates were sealed.
That telegrams would notify 9 crewmen's "next of kin".
The target was New Britain where Jap fighters lay in wait.
B-17's were slaughtered in this realm.
But still the Fortress plodded on en-route to meet her fate.
Commanded by courageous hands, the pilot at her helm.
Then over target hostile fire, the Fortress plunged and died,
Thrown from the aircraft Holguin would survive.
His comrades perished with the plane for they were trapped inside.
Joe captured by the Japanese was wounded but alive.
A prison camp was Holguin's home until the peace was signed.
But every day he made a solemn vow.
That he'd return for comrades he was forced to leave behind.
One by one, each mother's son, he'd bring them home somehow.
Joe returned to peace once more on California's coast.
But through the years the nagging "memries" came.
Of all the things he thought about what haunted Holguin most,
Were comrades who had fought and died aboard that burning plane.
Though almost forty years had passed to 1981,
And jungle growth had camouflaged the scene
Joe Holguin still remembered and his mission wasn't done.
He'd never quit until he'd found his comrades and their "Queen".
Joe Holguin looked, two trips it took, determination paid.
Then time reversed, the clock had "stopped" for Joe.
For resting neath the forests in a quiet jungle glade,
The wreckage of that gallant bird he'd left so long ago.
Around the jungle site he searched, how many would he find?
The promise that he'd made them took "command".
He couldn't leave a stone unturned or leave a friend behind.
Joe'd done his best and now the rest was in the Maker's hands.
But fate still held the winning hand as Holguin searched the site.
He wouldn't find his comrades at the scene.
The friends he'd known so long ago upon that fateful flight,
Five rested on Hawaiian soil for fate had intervened.
Three sergeants H. Garcia, Robert Griebel and Pace Payne.
Lt. Francis Peattie made it four.
The fifth Lt. Herman Knott, all perished with their plane.
Side by side each one had died as they guarded freedom's "door".
The five warriors then were disinterred as Holguin reminisced.
And he recalled his friends in silent thought.
And as he pondered in his mind years faded like a mist.
Innocents pay the cost of war but that's how freedom's bought!
So Joe would escort each one home and bid a last good bye.
And as he saw each comrade laid to rest,
He bowed his head and listened to the bugle's haunting cry.
Then like his comrades Holguin knew he'd done his very best.
Then Holguin sensed a Presence and he felt an unseen Hand.
And that Silent Presence echo'd in his mind.
It whispered "Joe our mission is proceeding as I've planned",
"Cause you and I who watched them die don't leave our friends behind".
Joe's third trip was a fruitless one, where do the others sleep"
But Holguin knows his mission must proceed.
Will four remain a secret that the Maker wants to keep?
Or one more time will hands Divine guide Holguin to succeed?
The answer rests in God's own hands, Joe Holguin is the tool.
Joe's bonded to a vow made long ago.
And in a world where wickedness and hatred often rules,
God's lessons of eternal love are taught by guys like Joe!
IVAN L. FAIL (C) 1987. From "The Poet's Salute To Valor"

The B-17 "Shoo Shoo Baby" going to Wright Patterson Air Force Base
SHOO SHOO BABY
Born in 1944 to fight in World War II.
Shoo Shoo Baby went to war with Paul McDuffee and his crew.
Across the sea to England, assigned to the 91st.
Destined to be a legend midst the flak and cannon bursts.
She was based at Bassingbourne, attached to First Division,
Where she'd return to lick her wounds after every mission.
With McDuffee in command and nine other gallant men.
Shoo Shoo Baby took them all to Hell and back again.
Berlin, Frankfurt, and the others, through the Luftwaffe and the flak.
Lady luck always smiled and always brought her back.
Like an Avenging Angel, pounding Hitler from the sky.
She sweated out each mission and watched her comrades die.
With Messerschmidt's and Folke-Wolfes and flak at every turn.
She bought vengeance for her sisters as she watched them fall and burn.
Mcduffee carved a notch on her yoke at mission's end.
Sixteen of them of all, like a token to a friend.
The sixteenth was his last, then a parting bitter-sweet.
One last time McDuffee sat in Shoo Shoo's pilot seat.
He smelled the smells and thought the thoughts that few can
understand.
Except the crewmen of a Queen and her pilot in command.
Then McDuffee bid farewell to his battle blooded friend.
And at the time neither knew some day they'd meet again,
With McDuffee going stateside, his final mission done,
But for the plane, fate lay in wait, she'd fly another one.
The target was in Poland, with Bob Guenther at the yoke,
Posen it would be, with 88's and puffs of smoke.
Just after take off a supercharger, began to overheat.
But Shoo Shoo struggled through the sky with Bob Guenther in left seat.
Just over Poland the ailing engine was overheating bad.
Guenther ordered it "secured", the only choice he had.
Then not yet over target, an 88 hit number two.
Yet still she'd do the job that she had come to do.
But with two engines smoking, she'd soon become a stray.
Neutral Sweden beckoned, yet seemed so far away.
With bombs away she turned, now she was on her own.
Mile after she struggled, wounded and alone.
At last the shores of Sweden were looming just ahead.
She'd tempted death so many times, but chose to live instead.
Interned there with her crew, just who could know her fate?
How many distant places and adventures lay in wait?
Sweden, France and Denmark, she passed through many hands.
She plodded through the skies of many foreign lands.
Russia, Africa, Europe, Lebanon, they were her ports of call.
Mapping missions, hauling passengers, Shoo Shoo did it all.
At last she was abandoned, overworked and worn.
Yet a future still awaited in the land where she was born.
Broken and alone, many parts she lacked.
But one thing never changed, her spirit was intact.
Her friends had not forgotten, time cannot erase.
For in their hearts she occupies a very special place.
Faithful to her mission in our Nation's greatest need.
She's back in caring hands and nursed to life once more.
Soon she'll be reborn as majestic as before.
Befitting of a queen, a place of honor is reserved.
A home where she'll receive respect that she deserves.
Soon she'll come to life, breathe a nostalgic sigh.
And her Cyclones one more time, will launch her to the sky.
To a home where she'll retire, in honored glory rest.
In a Palace home befitting of a Queen who gave her best.
Another pilot will take her upon her final ride.
But Paul McDuffee her special friend may be sitting at his side!
Ivan L. Fail © 1986
Sparta, Missouri
Note: Shoo Shoo Baby has been restored and is on display at the Air Force Museum at Wright-Patterson Air Force Base at Dayton, Ohio. Her gallant story is told in the March 1986 issue of Reader's Digest "Song of A Valiant Lady". I'm proud to say after composing this poem Peul McDuffee and I became friends. My brother and I met him in Memphis during ceremonies for the Memphis Belle. Paul and I stayed in touch until his death and I still have some of his correspondence in my memorabilia. Paul, suffering from the complications of diabetes, was in ill health for several years before his death.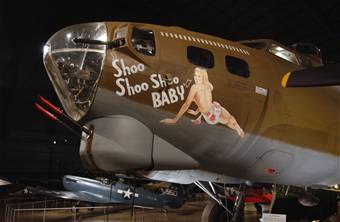 "Shoo Shoo Baby"